As summer is drawing to a close it's time to welcome a whole bunch of new students to Leicester at both University of Leicester and De Montfort University, as well as all of the returning students looking for new and exciting places to hit. That means it's time for an updated 2018 version of our Student Guide. We've focussed on music, food, shopping and experiences for the guide this year – we know you'll be keen to discover the nightlife, but don't miss out on the rest of the city too! Even if you're not a student, you can still enjoy a few of our top tips and you can even win yourself a fantastic VQ Monty DAB Bluetooth Radio with £99.
MUSIC

The Cookie
Home to some of Leicester's best intimate music and comedy gigs, in recent years The Cookie has hosted the likes of Royal Blood, George Ezra, Rat Boy, Rag & Bone Man, Jon Richardson and so many more. Located on the High Street, it's a great venue and worth keeping a close eye on their listings because some shows sell out very quickly! View the full listings on The Cookie website.
The Soundhouse
Another important player in the local music scene, The Soundhouse has regular live music across a number of genres including local acts and major touring artists. Upcoming shows include Ben Ottewell from Gomez on Thursday 19 October, with other recent gigs including JP Cooper, Beans on Toast and Towers of London. They also host a regular open mic night on Tuesday.
The Soundhouse is located on Southampton Street in the Cultural Quarter.


The Shed
The Shed is Leicester's oldest independent music venue (and the location of Kasabian's first ever gig) and recently underwent a major refurb. You'll find events on at The Shed 7 nights a week, so it's always worth checking their listings. As well as music they also host gaming and film nights.
The Shed is on Yeoman Street in the Cultural Quarter.
Dryden Street Social
This is a brand new city centre venue due to open in October! Filling Leicester's gap for a mid size venue, upcoming gigs include British Sea Power, Pop Will Eat Itself, Beans on Toast and Skinny Lister and Will Joseph Cook. A fan of Superfood? Unfortunately that gig's already sold out!
Check out the full Dryden Street Social listings.
Firebug
It won't take long until you're acquainted with Firebug, whether it be for beers in the garden until 4am or getting your feed through the week, but upstairs Firebug also host regular live music events. Keep up to date with the listings via the website and also keep your eye out for the Plug silent disco nights and Midlands Movies immersive cinema events.

O2 Academy
Yep, Leicester's also got its own O2 Academy and for those of you up at University of Leicester it's actually based on your campus within the Student Union. Notable upcoming gigs include Dizzee Rascal, Lucy Spraggan, Declan McKenna, Milburn, Shed Seven, Scouting for Girls and Rat Boy. It's also the home of Leicester's Handmade Festival which takes place annually over the May Bank Holiday.
Check out the full O2 Academy listings.
COFFEE SHOPS

200 Degrees
One of our favourite daytime spots, 200 Degrees is located on Market Street and has a weekly changing menu of salads and sandwiches. Pulled BBQ turkey, applewood smoked cheddar, gherkins and roasted sweet potatoes was a particular highlight! With plenty of seating, plugs across all wall tables and good wifi it's definitely worth a stop.

St Martin's Coffee
St Martin's has quickly become one of Leicester's best known coffee shops, as well as them supplying their house blend of coffee to other venues in the city. Located in St Martin's Square it's a great spot for an afternoon catch up with friends plus, of course, it's also the home of the famous Crafty Burger (their evening burger restaurant which is open from Wednesday – Sunday) and in the daytime they do a mean Cuban sandwich.


The Coffee Counter
Based down on Bowling Green Street at the back of the Town Hall, The Coffee Counter is a bit of a gem in Leicester! They roast their own coffee on site and have a number of blends for you to choose from. Their food range is limited but great quality with filled croissants and granola bowls among the options. If you're looking to escape the hustle and bustle this is our recommendation. Be sure to check out their nitro cold blend too!

Northern Cobbler
For University of Leicester students you'll find Northern Cobbler up on Queens Road. It also doubles as a shoe shop, although the shoes are most likely out of student budget so we'll focus on the coffee! A firm favourite with student study groups, they offer a range for sweet and savoury options. Not the cheapest coffee shop you'll encounter, but certainly one of our favourites. One thing to note is that they don't have plugs available so make sure you're fully charged before you go, but they do have wifi.


96 Degrees
For the DMU students down on Braunstone Gate you'll find 96 Degrees which is a great spot to check out! Not only great for a coffee they also do their own range of freshly made protein shakes, milkshakes and smoothies. Perfect to hit after you've rolled out of the gym round the corner (or if you've not!)

Bru
Bru on Granby Street is one of our favourites. Being open until 11pm daily means that you can stay in there until late with your mates on any night when you're not out boozing, or if you're looking for somewhere for a late night study session. As well as a great hot drinks menu they also do gelato, shakes, smoothies and more. They have an excellent range of cakes, brownies and cheesecake and they even do waffle pops. Trust us, they're great.

The Exchange
Another notable mention goes to The Exchange in the Cultural Quarter, which is a fantastic bar opposite Curve that's also open in the daytime. More than that though they do Free Breakfast Wednesday every week. Yep, free breakfast. Choose from toast, waffles, porridge and more and it won't cost you a penny. Technically you don't even have to buy a drink, but we'd recommend that you do.
FOOD

Boneyard
Boneyard, based on Granby Street is a great venue for cocktails and a bite to eat. It's loud, extrovert and unashamedly funky. With so many menu items "spiked" it's a great place to check out if you like a little heat. Make sure you give their Lamb Snatch a try as in their own words "our food's as gutsy as our attitude". Students get 20% off all drinks and main menu items, plus there's 2 for 1 cocktails and bottled beers from 4-7pm and 10pm-close every day!
The Fish & The Chip
You'll probably spot the giant Union Jack on Jubilee Square, well lurking behind that is a brand new sit down fish & chip restaurant. Students get 10% off at all times though plus you can enjoy a daily happy hour on their ridiculous cocktails including the Candy Floss Daiquiri and Mint Chocolate Chip Cornetto.

Gelato Village
With so many dessert places in Leicester now it might seem like you don't know where to start, so we recommend you start at Gelato Village. Their Gelato has won actual awards across Europe. It's the best you'll get. Honestly. They're located on St Martin's Square.

Oscar & Rosie's
Quite simple – great pizza! Oscar & Rosie's is based at Market Place and does pizza by the slice, the whole 14″ or even by the metre! They have excellent vegan options, plus you can book in for parties with unlimited pizza, which is always a bonus! They're an independent restaurant and believe in great pizza; no pre-made sauces, no pre-grated cheese, just good quality, locally sourced ingredients.

Bodega
Enjoy South American food? Then make sure you head to St Martin's Square to check out Bodega. They do the very best nachos we have ever eaten. Go and try them and if you think you've ever had better elsewhere then please tell us where! The fish tacos are also pretty special too! They do a great range of cocktails and they serve churros for dessert! Look out for midweek deals on drinks and their £6 lunch offer.
SHOPPING
Pink Pigeon
If you're into your vintage then make sure you swing by Pink Pigeon on Silver Street. They have the best collections you'll find in the city with retro looks from Adidas to Burberry. Follow them in Instagram @PinkPigeonForever for a snapshot of their latest stock.

The Wardrobe
The Wardrobe is Leicester's longest running retro and vintage shop having first opened in 1988. The collections vary but expect Levis, Fred Perry, 60s dresses, 90s flannel shirts, plus new collections in vintage print. Find The Wardrobe on Silver Street and check out their collections online.

Tin Fish Shoes
Based in the Royal Arcade, Tin Fish have been part of the Leicester shopping scene for 25 years. Dr Martens, Converse, Toms, Birkenstocks and a fabulous Irregular Choice range among many others, they're the best independent shoe shop in the city. They even got a cheeky starring role in the new Kasabian video. Check out their collections online.

SET
We know how it is when you're away from home and you miss birthdays and events. Well Set is our go to gift shop in Leicester. Their range of greetings cards is second to none, from cute and funny to downright dirty, so you'll be sorted for every occasion. Gifts range from quirky stationary to retro record players, light up signs and jewellery, so whatever your budget they're worth checking out. You'll find them on High Street.
ACTIVITIES

Escape Rooms
I'm sure it won't have passed you by that Escape Rooms have become a huge craze. Here in Leicester we've seen a fair few pop up around the city. If you haven't tried an escape room, the concept is simple – you're locked in a room and you have to find a way out! Clue HQ on Highcross Street have a number of room options available from the scary to the more family friendly, which you can check out on their website and our other recommendation is Escape Asylum in St Martin's Square where you can tackle Hostage or dare to enter The Cabin.


Stadium Tour
Whilst Leicester City might not be Premier League champions anymore it's still exciting to get a behind the scenes look at where the magic all unfolded! The club run tours around the King Power Stadium most weekends when there's not a home match day and prices are very reasonable at only £15 per adult. A great couple of hours for any football fan. Get the latest availability on the LCFC website.

Gaming
If you're into your retro gaming then be sure to head to The Shed on a Tuesday night when they hold Playhouse. They have retro gaming on the big screen and you can take part in mini tournaments with friends. They also screen a different film each week, along with board games and cheap drinks offers.


Theatre
Leicester is home to Curve, one of the UK's best theatres and production houses. Coming up you can see fantastic productions including the UK tour of Les Mis, White Christmas, Ghost and so many more. Plus lucky for you they do ticket discounts for everyone ages under 26. To view the full upcoming listings visit the Curve website. Also look out for the reopening of The Haymarket Theatre in the coming months and also smaller shows over at The Y.

Festive Ice Rink
This year, for the first time, Leicester is getting its very own ice skating rink. The rink will be set up on Jubilee Square and will be open for 1 month from 8 December, so make sure you squeeze in a trip before heading home for Christmas! It'll sit just below the giant Ferris wheel which is back again this year, so it makes a perfect spot for a festive evening! Stay tuned for more details and ticket info.
EVENTS
Leicester Comedy Festival
You won't be able to miss this come February so make sure you're ready for it! The biggest and longest running festival outside of Edinburgh, Leicester Comedy Festival takes over the city for a fortnight with hundreds upon hundreds of comedy shows across multiple venues. With big names that have previously included Jimmy Carr, Greg Davies, Jason Manford, Stewart Lee and more, you might also be lucky enough to see someone like Jon Richardson, Russell Howard or Sarah Millican pop up doing a tiny warm up show! Keep your eye on the Comedy Festival for all of the latest announcements.


Handmade Festival
Everyone loves a city centre festival and we're lucky enough to have Handmade Festival on our doorstep, taking over the O2 Academy for 2 days over the first May bank holiday. This year's line-up included Frank Turner, Drenge and more, with 2019 promising to be even bigger and better. This year's event earned them a nomination for the AIF Independent Festival Awards, so make sure you're following them for the latest announcements.



Canteen
Canteen is Leicester's own fantastic street food event that runs on the last Friday of every month at Leicester Arenain the Cultural Quarter. Expect the very best of the UK's street food scene as they descend on Leicester for a big foodie party. There's a pop up cocktail bar too with fantastic creations every month, plus DJs live comedy and more! Keep your eye here on Cool As Leicester every month to find out the latest news on traders and their menus.
MUST BUYS
Zatchels
Zatchels have made a big name for themselves across the UK but you might not have known they're actually a Leicester company. Their handmade leather satchels have become hugely popular and are a must have student essential. From their classic satchel in a bold range of colours to the bigger messenger satchels perfect for holding a laptop, they have a style for everyone. Check out the latest range on the Zatchels website. Be quick and you can even grab up to 50% off.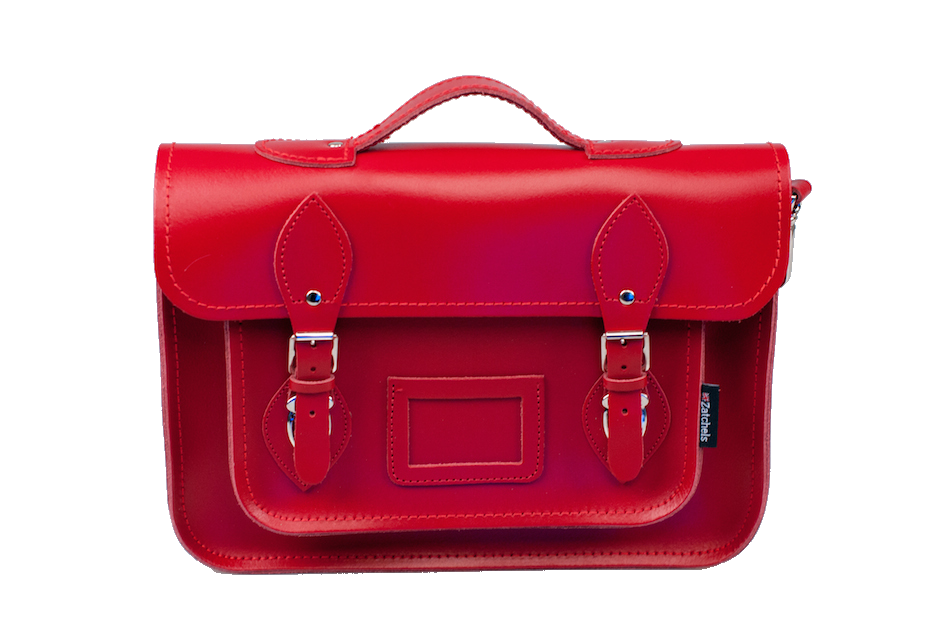 Rugs Direct
Every student home needs those little extra touches to really make it feel like your own place. Grab yourself a special number from Rugs Direct to warm up your bedroom or lounge and remind you of home! They've got a range of styles but one of our favourites is Luxury Shaggy design with diamond pattern. They're priced from £79.99 and available from Rugs Direct.
Caselogic
If you're more of a rucksack kind of person then you'll be needing one to carry your laptop or tablet around between lectures with you. Be sure to check out the great range from Caselogic, which come in a range of colours and provide a fully padded compartment to protect your laptop, but are so lightweight you'll forget you're carrying it. Our favourite is Huxton Daypack, which provides ample room for both a laptop and a tablet as well as other essentials, plus it looks great!

VQ Monty DAB Radio
We love the VQ Monty radio for many reasons, but mainly because of its size. It's big enough to look great in your new student digs but it's also lightweight, portable and small enough to grab and take to the park with you for summer picnics, or just out in the garden for a BBQ. It has up to 25 hours battery life with full digital radio and bluetooth settings (to stream off your phone or laptop), as well as alarm and snooze functions so you don't miss any classes! What's more we've even grabbed one to give away to one lucky reader!
**WIN**
To celebrate the new student guide and all of you lot coming to Leicester we've grabbed a VQ Monty DAB radio worth £99 to give away to one reader. To enter the competition just head over to our competitions page on Facebook.
Don't forget to keep following Cool As Leicester on Twitter and Facebook for all the latest news and events in the city and beyond!