Nipping outside the stage door of Nottingham's Rock City for a quick cigarette break, folk punk troubadour, Frank Turner, turns to tell us that he's just having a quick break from his press interviews. "You've got us next, sorry!" we reply as we continue to chat about tattoos, support bands and favourite venues as he finishes his break. "Hold this conversation for the interview", he says as he disappears back inside the black doors of Rock City's loading area.
Frank has long been a favourite of ours here at Cool As Leicester, for some 10+ years now, in fact. Following years of relentless touring, we caught up with him as he was about to play his whopping 2000th live show and as we sat down with him in his dressing room it became apparent just how much of a huge deal this was for him.
"It's been so hard to really plan in the 2000th one because the nature of what we do is that shows can be added in or taken off of a schedule. When we did finally get the date locked in the first thing to do was pick a venue, which, I'll be honest, took 2 seconds, because Rock City's the best venue in the world!"
In fact, Frank was only last in the East Midlands at the same venue just a few days before on his UK tour. "Yeh, we originally thought of doing the 2000th show as one of the tour dates, but to be honest I wanted it to stand alone logistically, and also give everyone a fair chance of coming along to see it."
"The hardest thing has been that I often get offered an extra gig or an aftershow and for the first time I've had to be so strict not adding anything to the diary. In fact on this tour in Salisbury I nipped to an open mic night on a day off and I was about to get up and play some songs when my tour manager had to pull me back to remind me to sit down!"
That's one of the aspects of Frank's career that's held him close to people's hearts, he's a man who can sell out arenas, but he's still just as happy to get up at an open mic just to play a few tunes. As his career and profile has grown he's always been keen to appear accessible to fans and such was the ticketing for his 2000th show. "It was really important to me that for a special show like this as many of my fans who wanted to come would be able to come. I didn't want the show to be touted and we've had so many people from overseas want to come, that the fairest way to do it was by a ballot which we ran."
The 2000th show comes 5 ½ years after his 1000th, when he performed in a London car park as part of Strummerville back in April 2011. "Show 1000 was actually really fun for me. I used to live in a venue called Nambucca in London, which got burnt down and everyone in the scene there really scattered to the 4 winds a bit. So the main thing I was so proud of with the 1000th show was that it was promoted by everyone who had been part of Nambucca. It was the first time that Danger and the others had been in the same room together since the fire and that was just such a cool thing to do as part of it all."
But in those 5 ½ years since then a lot has happened to Frank Turner, he's played the opening ceremony of the Olympics, he's sold out Wembley Arena and now he's onto show 2000, so how has his music progressed?
"There's a weird conservatism in some parts of the music industry from people who are adamant that nothing's the same as it was when it started, but I mean, surely that's the point! As an artist I think you have a duty to progress. In fact, I'm mildly obsessed by Bob Dylan's quote of "if you're not busy being born you're busy dying". I don't want to be a heritage act just yet, I want to keep doing what I do and changing that up all the time."
It seems a long time since we knew Frank Turner as lead singer of post hardcore band, Million Dead. From metal to the country tinged folk on Sleep is for the Week, from a backing kazoo to a full band behind him and now his latest record Positive Songs for Negative People, which has enough loudly boisterous guitar filled tunes to lay the heartache of Tape Deck Heart to bed.
"I write chronologically and autobiographically so each record that I've made is quite an intense representation of a certain period of my life, which makes it very difficult for me to compare say Sleep is for the Week and Positive Songs for Negative People because I wrote one of them when I was 23 and one of them when I was 33. I suppose if I had to pick a favourite record I'd have to say the latest one, because that's where I'm at right now."
For many the fans (some of whom are camped outside the front of the venue as we speak), they've also shared the journey with Frank each step of the way and many of those fans coming along to the 2000th show have been there since the very beginning.
"I had someone message me this morning to tell me that his first show was number 117. That was crazy and pretty great to hear. There are people who have come and gone as well and it's funny how many people like to make that as an aggressive statement but I don't see it that way at all. I think it's completely legitimate to like a certain era of an artist and not another and if someone came to see me in the early days but doesn't anymore then I'm just glad that they came back then. Thanks to them for that."
"I'm not into any one upmanship. If someone heard my song for the first time on the radio yesterday they're just as welcome at a show as anyone else."
From house shows, clubs and car parks to 2000 shows and sold out worldwide tours, Frank's already told us that he still likes to get up at an open mic, but does he miss the days of his regular smaller shows?
"I just like playing music. The context really isn't as important as the fact of doing it to me. People are always messaging me to ask me to throw in a house show somewhere and I still enjoy doing them but I'm so busy now with touring schedules it's hard to fit them in. The truth is that I did house shows back in the day because there was nowhere else to do shows, it wasn't because I was being cool, it was literally because I couldn't get booked in a venue."
"The last house show I did was in the summer at my friend Gianluca's house in Naples. I promised him when I was drunk and if there's one thing I am, it's a man of my word when I'm drunk!"
Now at show 2000 it isn't just the milestone to look forward to but he's also got one of his old favourite bands back together especially for the occasion as The Tailors take to the stage to support him.
"The Tailors put out 2 records in 2004/2005 and they're this brilliant country band. I've remained friends with their singer, Adam, over the years and he was the guy who single handedly introduced me to folk and country music, which has since influenced me so much. In fact there's a story I have told many many times about the night when he beat me in an arm wrestle and then taught me about Gram Parsons, I suppose to say sorry!"
"The band haven't played for a decade so they've actually drafted me into the band now as they lost a guitar player who moved to Vancouver and weirdly this is the thing I am most looking forward to about this show! We had a rehearsal the other day and it was one of the best days of the year for me, because it's not often you get to sit with one of your favourite song writers and best friends and back them up"
So used now to being the frontman on stage, this is a rare opportunity for Frank to almost take the back seat and enjoy being part of the backing band.
"Absolutely, it's a great feeling to do that for a change and especially with these guys who are so special. Weirdly Adam is actually the guy in my song I Knew Prufrock Before He Got Famous, which mentions Gram Parsons and plaid and Adam sent me a hilarious photo the other day of his wardrobe rack which was just all plaid shirts as he was picking his outfit for the show tonight. So tonight I shall be wearing a plaid shirt as well!"
Also performing with Frank for his 2000th show is Beans on Toast who represents another of the acts that Frank has long supported. Becoming more of a rarity, Frank still selects most of his support acts and has been lucky enough to be able to hand pick a number of acts that he's a fan of, friends with and tips for big success, but are there any favourites?
"I could be diplomatic and say all of them, but Larry and his Flask really stand out because they're just the best band I have ever seen. Koo Koo Kangaroo were an amazing band to take on tour too because they're just so out there and fun. Watching people being completely thrown through a loop when they came on stage was a lot of fun. On a similar level we've just finished up with Felix Hagan and the Family who I adore, they're almost like a Meatloaf glam explosion experience. I admit I do have a terrible habit of getting pissed and telling people I'll take them on tour and I've been saying this to Felix for about 3 years and now I've finally laid that to rest and it was so worth it!"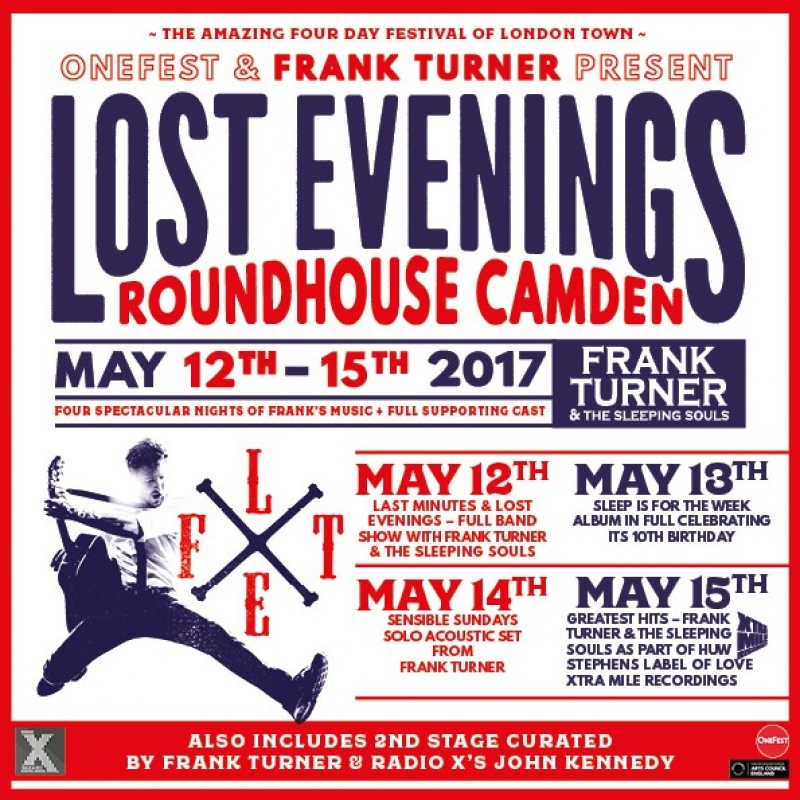 As we look ahead to 2017 Frank has recently announced his own 4 day festival , Lost Evenings, at Camden's Roundhouse, which is something that's been in the pipeline for a long time.
"I've wanted to put on a festival for ages but every time we considered doing it in a field I realized I was just trying to recreate Beautiful Days, which I love, but there's no point in duplicating something and as a proud adopted son of Camden Town this just made sense."
"The Roundhouse do fantastic community work, which is really important to me. They do so much community outreach stuff and that's going to be a huge part of the festival. We'll have kids from low income backgrounds doing internships, discussion groups, panels, the Nick Alexander Memorial Trust and Strummerville. As much as it is me playing 4 gigs in 4 days it's a lot more than that and I can't wait!"
With the UK tour now over and some North American, Canadian and European dates to keep Frank busy until Lost Evenings in May, what more can we expect from Frank Turner in 2017 and will we get to hear another new direction in his musical journey?
"We're certainly in a very rock place at the moment musically. Everyone knows the music I play spans the continuum of folk and rock music but I think the needle is definitely pushing the rock dial right now. Although this is me, so obviously having recognized that fact it makes me want to do something radically different next!"
"I think the worst place for a creative person to exist is in their comfort zone. Positive Songs for Negative People felt like a definitive statement of a certain musical style that I've been pushing for a while so I think it would be fun to now do something that was a little more unexpected and out of my comfort zone. But I couldn't yet tell you what that's going to involve just yet..!"
Whatever the next step is, we're certainly looking forward to hearing it! As we big Frank farewell he was off to get a tattoo to commemorate the milestone of his 2000th live show and get ready for one of the biggest nights of his career to date!
Lost Evenings takes place at Camden's Roundhouse from 12 to 15 May 2017 and tickets are available from HERE.