Never have a boring weekend again with our list of 10 things you might not realise that you can do in Leicestershire.
Let us know if you go and give any of them a try!
1. Make your own Pork Pie
Yeh, we all know Leicestershire is the home of Pork Pie. Proud of it! But now take it one step further as Dickinson & Morris over in Melton Mowbray offer both demonstrations of the art of Pork Pie making and, most excitingly, sessions to make your very own. Sessions last around 90 minutes and your pies will be baked overnight for you to collect the next day.
For further info visit the Dickinson & Morris website.
2. Sit in the dugout and in the LCFC dressing room
Yep, you can take a tour around the King Power stadium for just £10 (£5 for the kids). It's a great experience as you sit in the changing rooms, get to run out of the tunnel and obviously sit in the manager's chair. A must for any Leicester City fan.
Dates do sell out so keep your eye on upcoming dates on the Leicester City website.
3. Make your own gin
Nestled over in Charnwood is the home of Burleighs Gin. Take a visit to the 45 West Gin School and learn what it takes to become a Master Distiller. You'll be taken through all of the steps required, from weighing your botanicals to checking the strength of your gin, and then you'll get to bottle it up, label it and take it home. Obviously you'll also get a tour of the distillery thrown in so you know what you're handling.
You can find more info on the 45 Gin School website.
4. Forage for your food
Ever fancied living in the wild and feasting off the land? Well, maybe not, but you can give it a go for a day with Woodland Ways Foraging courses. Located on the Belvoir Estate you'll join instructors on a walk through the woodland identifying what's edible and what you can do with it. You might find medicinal plants or wild mushrooms, and you'll learn how to prepare them. At the end of the day it's all hands on deck to prepare the ingredients that you've picked on the campfire. You'll also have the chance (if you wish to) to prepare and cook your own game to accompany your foraged treasures. Vegetarian options available too.
If you fancy going back to the wild then you can find out more in the Woodland Ways website.
5. Be a zoo keeper
Get up, close and personal with the animals at Twycross Zoo as you can be a zoo keeper for the day with their experience packages. For £175 you animal lovers can spend the day taking care of the zoo inhabitants. You could be feeding the monkeys or washing the elephants and they aim to include as many areas of the zoo as possible during your day.
If this sounds like your idea of fun then check out the Twycross Zoo website.
6. Chill with the parrots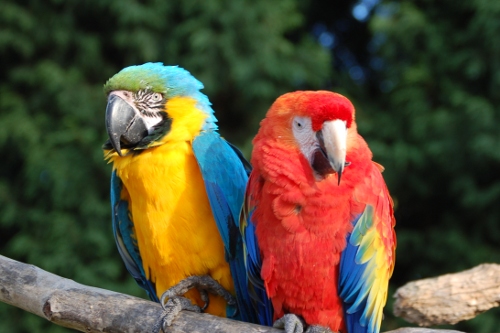 We always tell people about Tropical Birdland in Desford because it's brilliant, it really is. If you're not conviced then make sure you go and give it a try for yourself. Buy some bird feed and have a walk round the exotic life that lives there. You can feed the giant emus, or enjoy the walk through aviaries, maybe even check out the chick room as the newborns are hatching. There's a woodland walk where you can venture off path, but best of all is the Parrot Path, where you really can get up close and personal with the parrots as they might decide to have a perch on your shoulder or your head. Careful though, they tend to try to steal your jewellery or buttons.
Entrance is £7.25 (children £4.95/under 4s free) and you can get more info from the Tropical Birdland website.
7. Drive war tanks
Located in Husbands Bosworth, Armourgeddon not only offer fab tank driving experiences, but also have an on site museum with tanks and other military collections. You can don your helmet and get into one of the tanks with their driving experiences. Done on a one to one basis, you'll do a lap of the circuit with an instructor before the controls get handed over to you. This will be a real experience as for your second lap you can even go down below and close the hatch, really getting to grips with driving in battle as you find your way looking through the periscope.
They even do Dad & Lads tank experiences for you family types too. All of the info can be found on the Armourgeddon website.
8. Eat mealworms… and tarantulas… and zebra…
Before we start here we should probably say that delicious, less mental, foods are also available at Haycock & Tailbar Associates. Hidden away on Belvoir Street, you might not have noticed the black door that's appeared by the old Youngs Camera shop, but dare to ring on the doorbell and you'll be intrigued by what's inside. The cocktails are fantastic at this discrete supper room and the range of foods available is great for a culinary experience. With steaks ranging from beef fillet to zebra and reindeer served on hot rocks for you to cook at the table and a dessert menu that includes grasshoppers and a tarantula, it's certainly somewhere worth visiting for a conversation topic! If you're not feeling very adventurous don't worry, the rest of the menu is delicious!
Find out more on the Haycock & Tailar Associates website.
9. Break out of prison and end the Zombie Apocolypse
Yep, it's as crazy as it sounds. Zombie Earth have a range of events around Leicestershire and this one even takes you to prison as it takes place in HMP Ashwell, a derelict and abandoned prison over in Oakham. You and your team will have to locate and contain all zombies, whilst avoiding being caught or infected. The experience lasts around 90 minutes and you'll have to work with your teammates to make sure you all get out of prison alive.
Bonkers, but fun!
The next event is on 23 October 2015.
You can find out more information from Zombie Earth.
10. Dine at Fawlty Towers
Find out what it was really like with Basil & Sybil at the helm as Fawlty Towers comes to Leicestershire with their dining experience. Enjoy a 3 course meal alongside belly aching laughter as Basil, Sybil and Manuel serve you dinner and interact with you as a hotel guest throughout the meal. This award winning, interactive dining experience has been a long running hit in London and has enjoyed a fantastic reception up and down the UK, including a sell out run at Curve. Now it returns to Hothorpe Hall in Theddingworth with dates in November and December. If you miss out don't worry as more dates are expected to be announced.
You can book your tickets and view UK dates here.
Keep up to date with all of the latest things to do and see in Leicestershire by following us on Twitter @coolasleicester or liking us on Facebook. You can also join our mailing list below.
[yks-mailchimp-list id="25ad0a8a0b" submit_text="Submit"]