Festival season is well and truly on the way with the sunny weather to boot. We highlighted our pick of the fests in our Festival Guide and one of those was Camden Rocks, which takes place across multiple venues in the heart of Camden in London. Now we've got a pair of tickets to give away to one lucky winner so you can hop on the train to St Pancras and be there in no time at all!
So who's taking to the stage at Camden Rocks this year? Here's our top 5 of bands you have to see!
FEEDER


Feeder are headlining this year's festival and you can expect to hear all the hits, including that one everyone knows, Buck Rogers, but there's more to Feeder than that! After an 8 year absence, Feeder returned to the Top 10 of the album charts last year with All Bright Electric, so expect to hear a mixed set of songs old and new.
MILBURN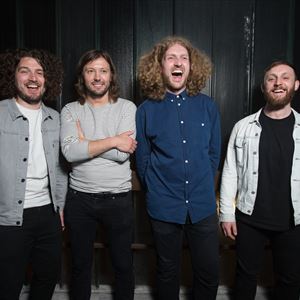 Milburn formed in Sheffield in the early 2000s and in our opinion were one of the most underrated indie bands of their time. Their 2 albums, Well Well Well and These Are The Facts were firmly in the collection of many a Midlands indie fan, who were all as equally delighted when the band reformed last year. Whilst the band have some new material and a single that came out last year we're expecting to hear all the classics, including perhaps their best know tune, What Will You Do (When The Money Goes).
THE BOTTOM LINE


If you're a pop punk fan then The Bottom Line should definitely be on your radar. Having just toured Europe with Simple Plan things are certainly on the way up for this young band. We caught them in Leicester at The Soundhouse a couple of years ago and have kept an eye on them every since. Imagine Blink 182 merged with Busted with a sprinkling of Simple Plan on top and this is what you get! They don't take themselves too seriously, but that's fine by us.
CARL BARAT & THE JACKALS


Best know for his starring role alongside Pete Doherty with The Libertines, Carl Barat was also frontman of Dirty Pretty Things before bringing together The Jackals a couple of years ago. Recruited from Carl's online search for bandmates via Facebook, The Jackals released their debut album in 2015, but we're pretty sure that Carl will be throwing some Libs numbers into the mix during this set as well! Don't miss it.
FLIGHT BRIGADE


Another of our favourite new bands is Flight Brigade, who are also on the bill at this year's Camden Rocks. Imagine a mix of Arcade Fire and Of Monsters and Men, with some tinges of 70s folk, that'll give you Flight Brigade. Winners of Best Unsigned Band at Great Escape Festival in 2015, they've also been named as one of Time Out's Rising Stars. Their mix of male and female vocals in their 7 strong band offers a captivating sound, catch them now whilst they're on the up!
Excited? You bet. So do you fancy going yourself? Tickets cost £39 which gives you entry into all venues all day on Saturday 3 June and can be booked via the Camden Rocks website.
We've got a pair to give away to one Cool As reader. All you need to do is fill in the form below before the closing date of Monday 29 May at midday. The winner will be announced the following day and contacted by email.
GOOD LUCK!
[ipt_fsqm_form id="22″]