With 2 weeks to go until the big day if you're anything like us you'll still have a long list of presents that you need to buy. Don't panic, it's not too late to get some awesome gifts in for all of your favourite people and what's more, we've even got a few that you can win!
Mum, Dad, Brother, Sister, Son, Daughter, Niece, Nephew, Fiancee, Partner, Boyfriend, Girlfriend, Grandma, Grandad, time to get inspired…
For the beer lover


You can now get all of your favourite beers from Leicester's own Everards in bottles and minikegs. Whether it's for a party, a gift or a treat for yourself, you can now enjoy the taste of Tiger, Old Original, Sunchaser and Beacon Hill at home. The 5 litre minikegs hold 8.8 pints – perfect to share or savour for yourself – the beer will stay fresh for 30 days once opened. Simply chill, pour and enjoy!
Minikegs and bottles are available to pre-order online from Monday 12th December at www.everards.co.uk/shop or from the Everards brewery shop at the brewery next to Fosse Park. **WIN IT! We've got a keg to give away. Enter at the bottom of the page!**
For the cheese lover


We all love cheese, right? So why not try making it yourself! Nothing will impress your Christmas guests more an extravagant post-dinner cheese board, unless of course you crafted this lavish platter yourself with the help of The Artisan Cheese Maker's Kit.
Make 10 delicious cheese all by yourself with recipes for mozzarella, ricotta, goats cheese and paneer. Just £24.99 you can buy online from Firebox.
For the bearded man in your life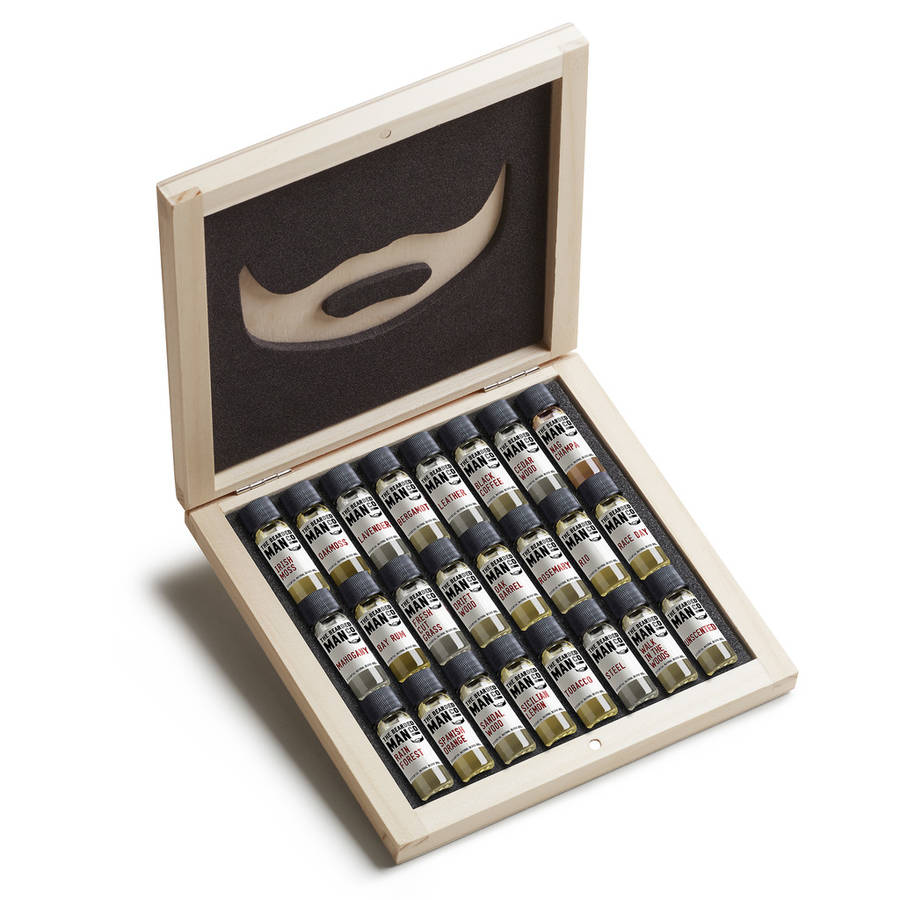 For anyone with a hipster in their life, here's the perfect gift. The Bearded Man Company is proud to present the Ultimate Gift Box Set. This set includes their Bestselling Beard Oil Sampler Set together presented in a handsome high quality wooden gift box. A perfect gift for the well groomed bearded man.
This set includes our entire 24 scents of The Bearded Man Company Beard Oil and is priced at £39.99 available to buy online from The Bearded Man Company. **WIN IT! We've got a gift box to give away. Enter at the bottom of the page!**
For the comedy fans


There are a number of great comedy releases this Christmas to enjoy after dinner on Christmas Day and our top picks go to Josh Widdicombe's What Do I Do Now? and Rich Hall's 3:10 To Humour. With Josh Widdicombe sure to be a hit with all the family as he muses over which is the best and worst biscuit in the cheese selection, Rich Hall will keep you laughing through the Boxing Day with his acclaimed grouchy, deadpan style, which has established him as a master of absurdist irony. **WIN IT! We've got one of each DVD to give away. Enter at the bottom of the page!**
For the gin lover

Treat someone to the Gin and Tonic Revolution kit. The gin & tonic may be a British classic, but that doesn't mean you can't have some fun with it! Reinvent your G & T – create an airy cloud of tonic foam to top off your drink, deconstruct your favourite concoction and turn your gin into floating caviar, encapsulate a whole gin & tonic in a bubble, or even make your own tonic syrup. The kit is £29.95 and available from Sous Chef. **WIN IT! We've got a kit to give away. Enter at the bottom of the page!**
For the kids


For any car loving little ones the scaled down remote control classics are the perfect gift. Autosessive's 1:12 radio control cars, like the Lamborghini above, look stunning and perform as you would expect. With 2 channel control and detailed lines, these scaled down classics will turn heads where ever you race. They're even on sale pre Christmas down to £24.60 from £32.80 from Autosessive.
For those 3 years+ they'll never tire of the Little Tikes Tyre Twister. Put the car inside the tyre and power up with the remote control! Go forward, backwards and perform back flips inside the tyre to change the direction. You can also control the car without the tyre for high-octane race action. The RC Tyre Twister is two toys in one! The Little Tikes Tyre Twister is priced at £39.99 and available from The Entertainer.

Want less toys cluttering up the place this year? Hello Moon are inspiring you to give something fun, original and personalised for your own homes and for friends and family. They do personalised prints for the whole family, grown ups too, but our favourites are the children's designs, perfect for a nursery or youngster's bedroom. Personalised prints start from £16 and are available from the Hello Moon website.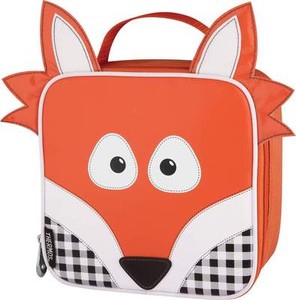 One more favourite of ours this Christmas is the Thermos Forest Friends Fox Lunch Bag, in perfect keeping with our city's fox theme. Make lunchtime more fun for the little ones with this foxy designed lunch bag, that will brighten up any day out or back to school. Priced at just £11 you can still grab one in time for Christmas from Amazon or the Thermos website. **WIN IT! We've got one to give away. Enter at the bottom of the page!**
For the music fans

With the new iPhone doing away with the headphone port this season is all about wireless tech, especially headphone and Motorola have brought out a great pair with the VerveRider bluetooth in ear earphones. Charge them up, link it to your device through Bluetooth, and then pop them around your neck to lose yourself in rich HD audio. Not only does this pair make cabling a thing of the past, its Hubble Connect tech will even help you find them if they're lost. These headphones are waterproof too, making them perfect for a workout. They're priced at £49.95 and available for John Lewis. **WIN IT! We've got a pair to give away. Enter at the bottom of the page!**
For the movie fans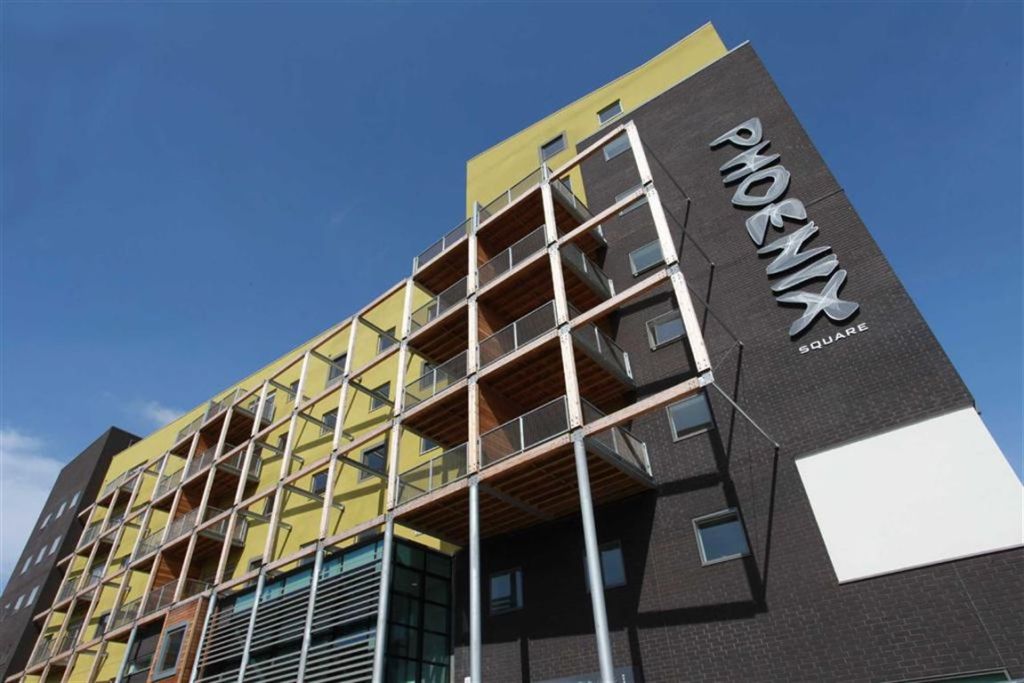 Never be stuck for a gift idea again with the Phoenix Cinema's range of gift vouchers to be redeemed against movies, food and drink. Or you can even buy a film & dine voucher which offers 2 cinema tickets and 2 main meals in the on site restaurant. With so many great independent and mainstream films showing throughout the year it's a gift that they'll be able to enjoy at their leisure. Further information on gift vouchers is available from the Phoenix website. **WIN IT! We've got a £20 voucher to give away. Enter at the bottom of the page!**
For the football fans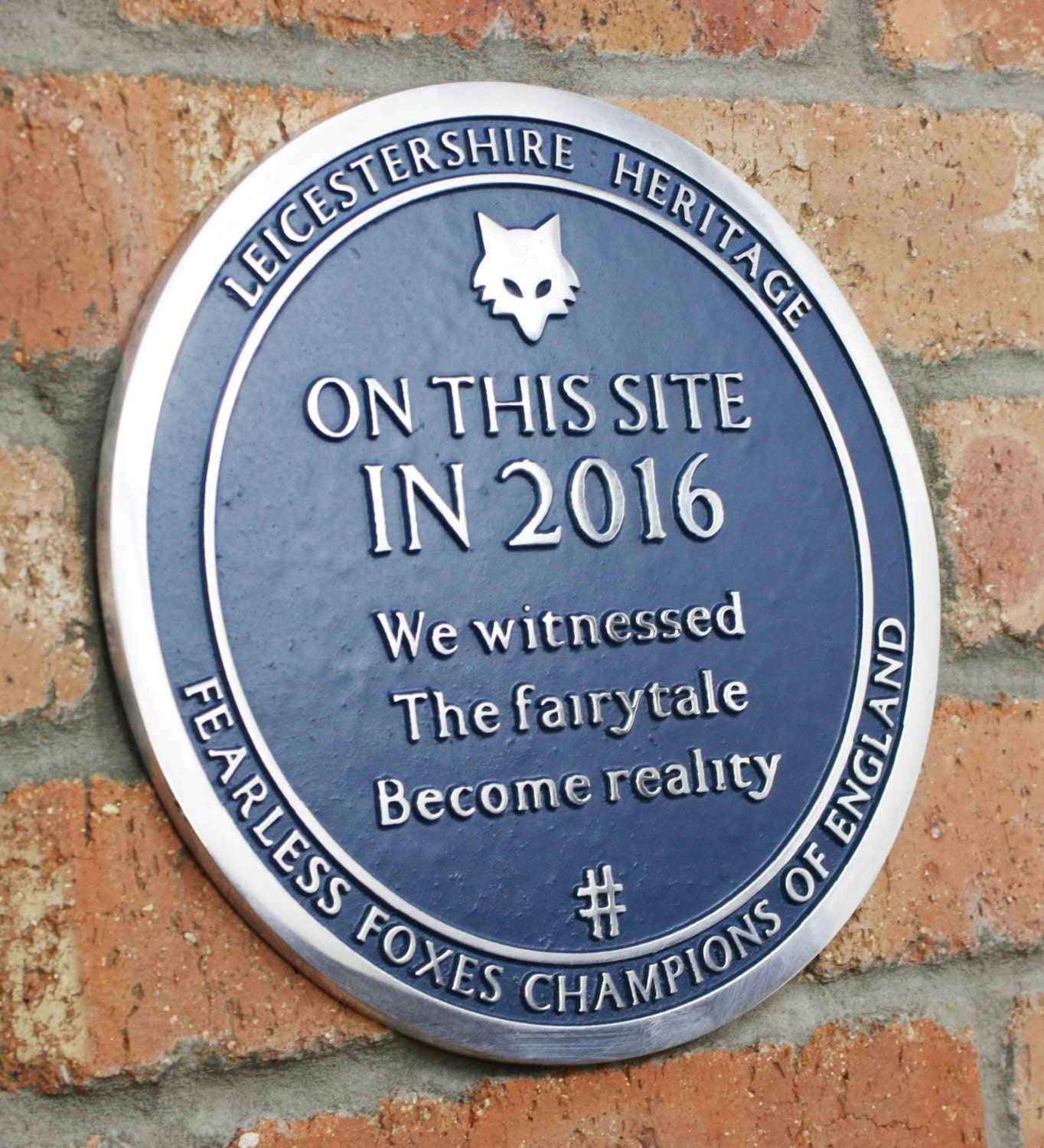 What a year 2016 was for Leicester City fans. Now you can mark the site where you witnessed history being made as Leicester City won the Premier League and became champions of England, with a Leicestershire Heritage blue plaque. Rumour has it even Claudio's got one! Made by the Metal Foundry in Wigston, the main text reads : "On this site in 2016 We witnessed the fairytale become reality". Perfect for outside the house! The plaques are priced at £37.99 and are available from Amazon.
Never forget this season and Leicester City being in the Champions League with an official Leicester City Champions League football. Available from the club shop and online these are priced at £25 and are perfect for any footy mad kids this Christmas.
Or why not grab a Christmas jumper? One of our favourites this festive season comes from the official Leicester City store and comes in both adult and kids sizes. Modelled beautifully by Christian Fuchs. Jumpers are available in the fanstore or online.
A final one for football fans are these brilliant prints which commemorate the best season in Leicester City's history. Looking for some art for the wall, or to brighten up an office, these will look perfect framed and hung. One of our favourites is this stylish modernist design from House of Prints. The artwork styled with typography shows off the team's success. Priced at just £7.50 from Etsy you can order framed or unframed.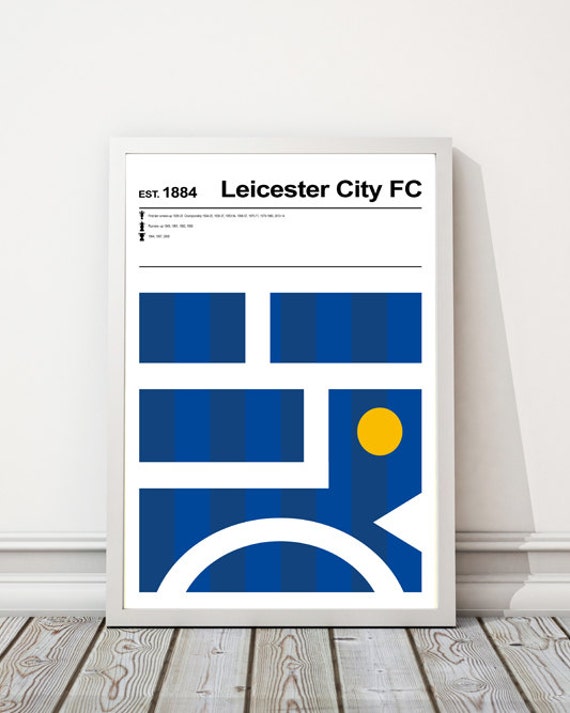 Or for those who never want to forget a single moment from last season then this Leicester City star chart is perfect and details every goal from every match throughout the season so you'll never forget any of it. Designed in a star chart pattern it's the perfect addition to any football mad home. The print is available framed or unframed from just £8 on Etsy. **WIN IT! We've got a print to give away. Enter at the bottom of the page!**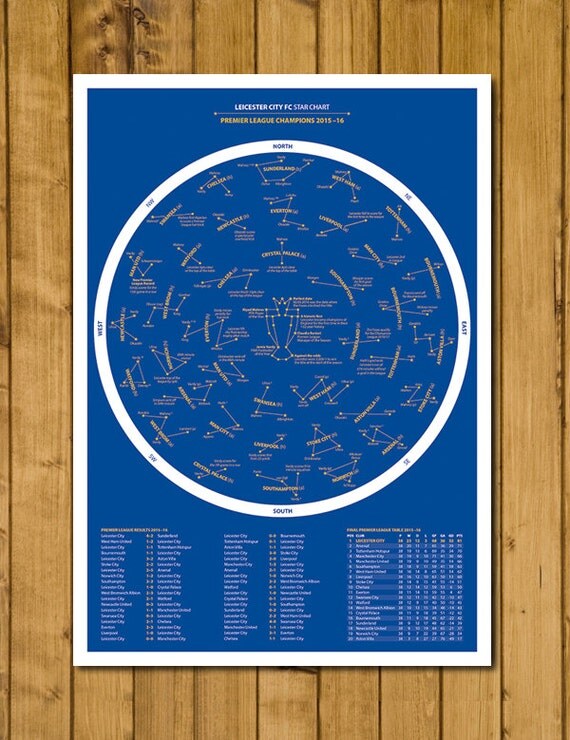 For your Secret Santa


Haynes has joined forces with international best-selling author, Boris Starling, to create a highly amusing and brilliantly observed new pocket-sized 'Haynes Explains' series. Making the perfect stocking filler or Secret Santa gift, Boris Starling wittily spins his take on Haynes' inimitable style based on a strip-down and rebuild of a particular 'model', with the first four titles in the series focusing on Babies, Teenagers, Marriage and Pensioners. The books are priced at just £8.99 and are available from the Haynes website.
For the globetrotter

The perfect gift for someone about to go on their travels – a great way to identify their bag/case. These personalised luggage tags from MW Studio are great quality and come in vibrant colours to really stand out. Priced at £20.25 from the MW Studio website there are a range of options to make each tag unique. **WIN IT! We've got a personalised tag to give away. Enter at the bottom of the page!**
For the practical present


Ok ok, it's not the most glam present, but some people prefer to be practical! Encourage a little extra DIY in the new year with this handy rechargeable cordless screwdriver kit from Amtech. Lightweight and handy for flatpack furniture or knocking up some shelves, there'll be no more home improvement excuses allowed. Priced at a bargain £15 you can buy from the amtech website.
For the rugby fan


Grab a bargain for the rugby fan in your life this Christmas with the Tigers travel set reduced from £15 to just £8. Containing shaving gel, deodorant and face wash, the toiletries come in their own Tigers boot bag style travel bag. Now just £8 you can buy in store or from the Tigers website.
For the dog lover

We love the fantastic mug collection from Repeat Repeat's Happiness range. This "love me love my dog" design is the perfect mug for dog lovers, and the perfect mug for lovers of mid-century style graphics with muted colours typical of that era. The mug is priced at just over £12 and is available from the Repeat Repeat website. **WIN IT! We've got a mug to give away. Enter at the bottom of the page!**
For the ladies


Treat her to a day at the races as Ladies Day returns to Leicester bigger and better than previous years with more fun, more music and more racing action! You can now buy a limited edition VIP gift package for the event in July with 2 VIP entry badges, 2 fast track entry passes and a bottle of Prosecco on arrival. With a full day's racing and live music from All Saints and DJ set from TOWIE's Mark Wright, it's an event not to be missed. Gift packages are £99 and can be ordered from the Leicester Racecourse website.
For the ultimate luxury why not treat someone to a trip to one of the country's best spas at Leicestershire's Ragdale Hall. Starting from only £25, a gift voucher for the UK's leading spa, Ragdale Hall, is the perfect gift that can be enjoyed by loved ones, friends or family, any time throughout the year ahead. All vouchers come beautifully packaged in a presentation pack with a voucher wallet – and a full brochure to get the lucky recipient in the mood for their visit to this multi-award winning spa in Leicestershire. Vouchers are available for spa day packages, spa breaks or in monetary values – and with such a wide range to choose from, we believe you'll find something for everyone. For details of all packages available please visit the Ragdale Hall website.
For the whole family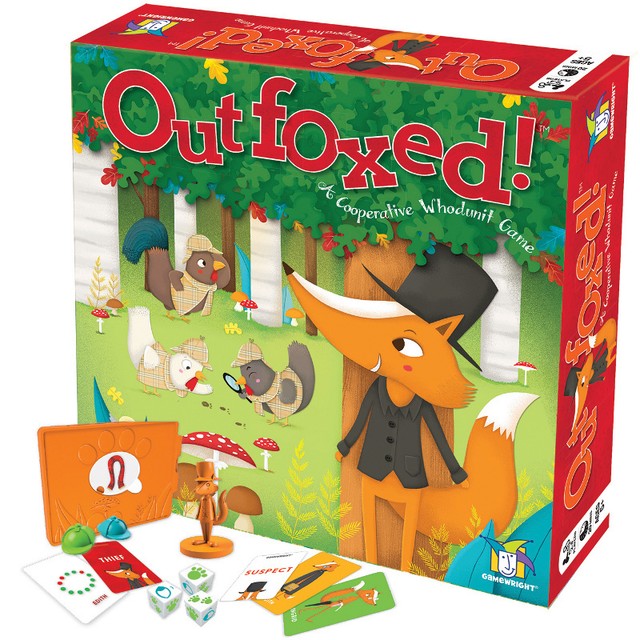 Perfect for some after dinner entertainment, Outfoxed is like a Cluedo for kids if you will, but with a fox. Mrs. Plumpert's prized pot pie has gone missing and it's now a chicken chase to crack the case! Move around the board to gather clues and then use the special evidence scanner to rule out suspects. This one's suitable for kids over 3 years so everyone can enjoy playing. Available from Amazon.


Or for something a bit more competitive, how about The Really Nasty Horse Racing Game? Show your true colours in this game of bluffing, double-crossing and fun! Go for the prize money with your own horse or secretly back another. Use your Really Nasty cards to sabotage the race but don't be surprised if you get diddled by your Dad! No knowledge of horse racing required and available to buy from Debenhams.
WIN
Yes we've got a load of the above gifts to give away to our readers. To enter all you need to do is tell us below which gift you want to win and you'll get entered into the draw! Entries close on Monday 19 December 5pm.
Good luck!